24 easy budget decorating ideas that won't break the bank
Sprucing up your home needn't cost the earth – revive every room in your house with these cost-next-to-nothing decorating updates
If you're on a tight budget, you're most definitely not alone. That's why we've compiled some really easy, budget decorating ideas to help you improve your home. Small updates really can make a big difference. All they require is a trip into the loft, a tin of paint and a little love (plus the tiniest bit of bargain hunting).
1. Add some greenery
Plants breathe life into any scheme and in an all-white room like this one they add a gorgeous hit of colour. Not green fingered? Don't worry – this tip doesn't have to pass you by. There are now loads of great fakes available and they look really realistic – try Blooming Artificial for everything from plants to trees.
2. Upcycle furniture that's past its best
If you're thinking about throwing out a piece of well-worn furniture, stop. Take another look and see if you might be able to upcycle it. This wardrobe has been given a new look with remnants of wallpaper on the glass panels. A coat of paint or varnish, or new upholstery, are other easy ways to give an unloved piece another go.
3. Cosy up with sheepskin
If you don't already have a sheepskin (or faux sheepskin) rug, this tip will involve a tiny trip to the shops. However, Ikea has the bargainous Tejn rug on offer for just £10 and John Lewis has natural sheepskins in a choice of four colours, for £35. Basically, sheepskins make every room look cosier and more luxurious – drape them across seats and beds or place on floors.
4. Change cupboard door handles
Give kitchen units a cheeky update by swapping drawer and cupboard handles for a new design. Cup handles and simple door knobs work well in a Shaker-style kitchen. Bar handles are also very popular just now and will suit any modern kitchen scheme.
5. Put up a shelf
Whether you want to keep favourite reads easily to hand or display beautiful trinkets, you cannot go wrong with a simple shelf. Shelves are obviously practical, but they also offer the opportunity to add character to your scheme.
6. Mismatch your furniture
Got your eye on a junk shop find, but worried it won't fit in with your existing pieces? Mismatched furniture is far cooler than you think. Kitchen seating is a prime example – different colours or styles can look great. So if you've found a bright red chair and love it, don't feel you have to purchase a whole new set.
7. Neaten up with pretty storage boxes
Anyone who loves interiors knows that storage is their friend. Make a feature of your storage with cute trunks or pretty floral cardboard boxes – not only will they give you extra space to store things in a calm and uncluttered way, but they'll look pretty fab, too.
8. Hang a photo gallery
Photo galleries are creative ways to cover a bare wall or a cheerless corner. Experiment with shapes, sizes and frame designs and put anything from old family photos to children's drawings up there.
9. Display fresh flowers
Fresh cut flowers are an easy and affordable way of turning a room round in a flash. They require absolutely no effort and you can go as big or small as you like. Even a single bloom will look great.
10. Repaint your chairs
Whether it's your plain dining room chairs or your wooden bar stools, simply dip them in paint for a whole new look. Bright red makes a statement, while white or pale pastels will freshen up your furniture in a more muted way.
11. Create a candle corner
Collect all your candles from around the room and put them together in a corner to create a mixed scent – so much more relaxing than a bright bulb.
12. Get organised
Give everything a home and declutter as much as you can. With all your belongings back in their official place, you will have tons of spare room and create the illusion of a larger space.
13. Accessorise your bath towels
Bath towels are an essential and are often slung over the back of doors or rolled up in the cupboard. Make a statement with them by displaying the beautiful ones and treating them as your own pieces of bathroom art.
14. Pile up your cushions and blankets
Get all your cosy bits out of the cupboard and pile up cushions, pillows, blankets and throws on the bed. Not only will you create a relaxing den but it will also look straight out of a boutique hotel room. Win, win!
15. Display your artwork
Gather all your artwork out of the loft and finally get round to hanging it! Much like a photo gallery, hanging your artwork or propping it up on top of side tables will keep blank walls busy and give the room a revamp.
16. Rearrange your room layout
Feng shui your room by moving furniture around to welcome in natural sunlight, surround the fireplace or clear the doorway. Furniture can look completely different at a new angle and it doesn't cost a thing.
17. Frame your photos
Don't scurry your old family photos or bright new snaps away in a photo box or album. Get them out and splurge counter tops and windowsills with pretty frames for an instant pick-me-up.
18. Make a focal point
Create a focal point by placing one large mirror, a bright piece of artwork or even a giant lamp centre stage. This will change the dynamic of the scheme and give off the appearance of an entire room renovation.
19. Beach-themed summer decor for any room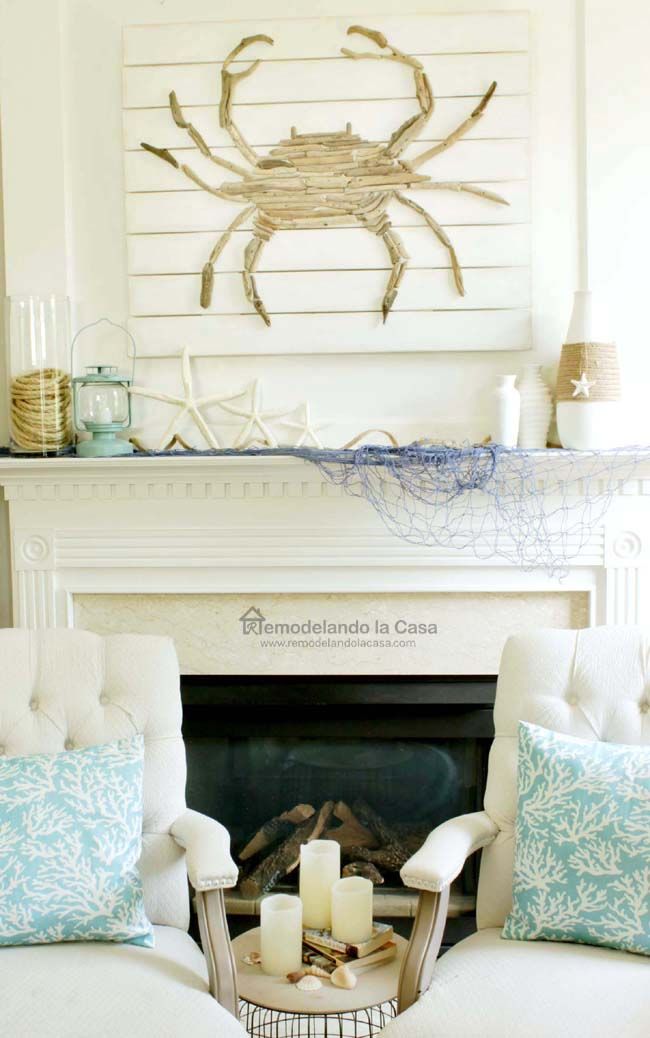 A perfect summer must include some beach fun. Bring that joyous vibe to your home by choosing these beach theme summer decorations. Choose some pastel and neural shades to create a perfect summer backdrop in your living room or bedroom. White accent chairs with turquoise pillows, a rustic lantern on the fireplace mantle, and some beach-inspired wall decors such as ropes, fishing nets and shells and a matching vase will complement this theme. Neutral shades will match beautifully with the nautical and beach theme. Pick some of the decoration of your choice, match with beach-themed decors and give your room a complete summer makeover. Be creative in choosing your summer decorations. Include everything from shells to driftwood and even spare trinkets to create a charming center piece or to make an art from this beach bounty.
20. Photo garlands and summer mantel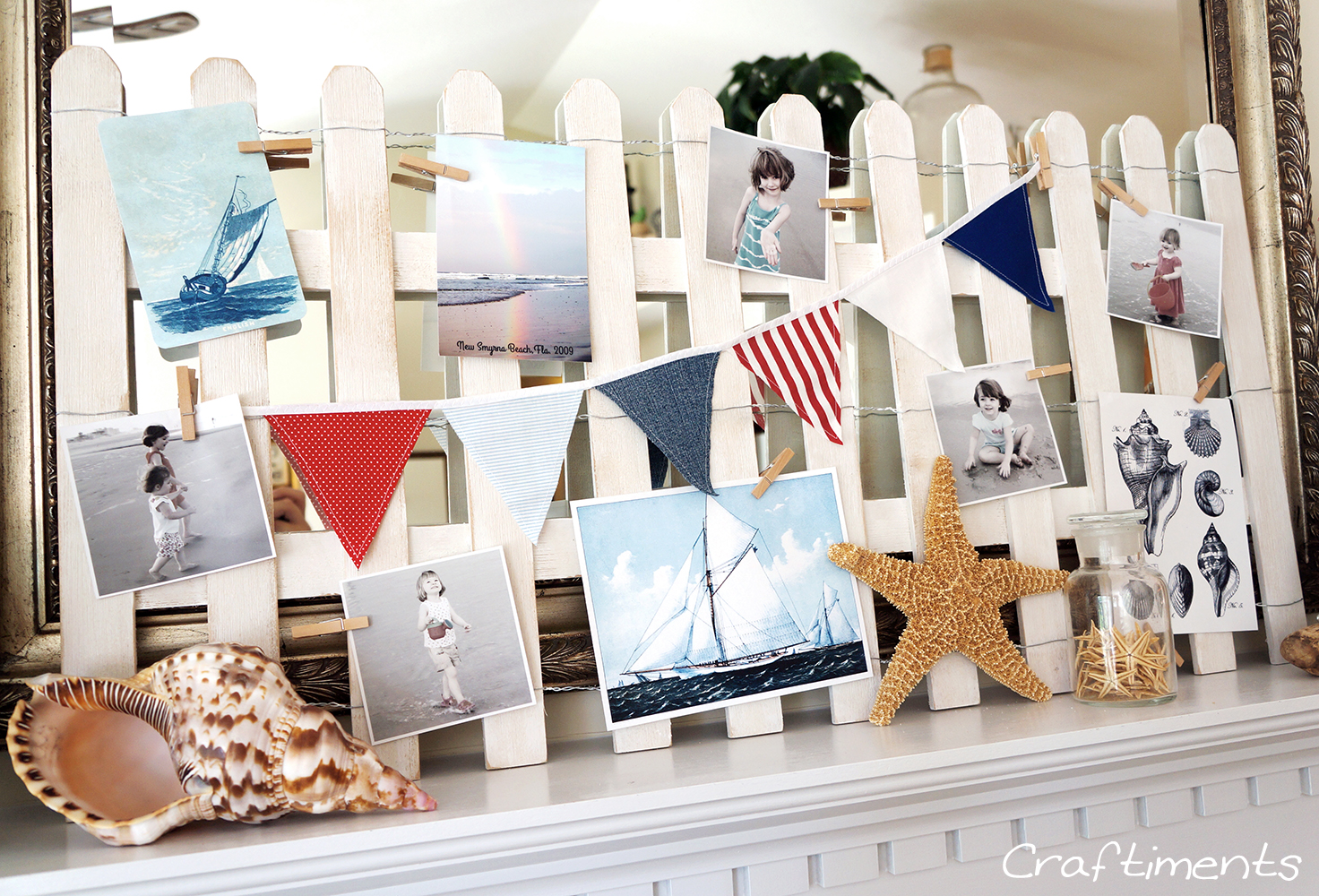 Bring your summer memories to your home by creating a photo garland with these summer house ideas. Choose some of your old summer time pictures, your family portraits in flower gardens or near the beach for this garland. Add some old postcards and hanging shells to give this garland an eye-catchy look. Making this photo garland is easy and fun. Work together with your kids and loved one to make this beautiful summer décor for your home. Hang it in a room with beach-inspired summer decor or at the entryway. Create a backdrop with faux wood fences to hang your garlands and add some shells or artificial flowers to match the theme. This photo garland can be used with your beach themed centerpiece or over your fireplace mantle too. Hang it over the fireplace and create a beautiful summer room decor.
21. Colorful floral arrangements summer house ideas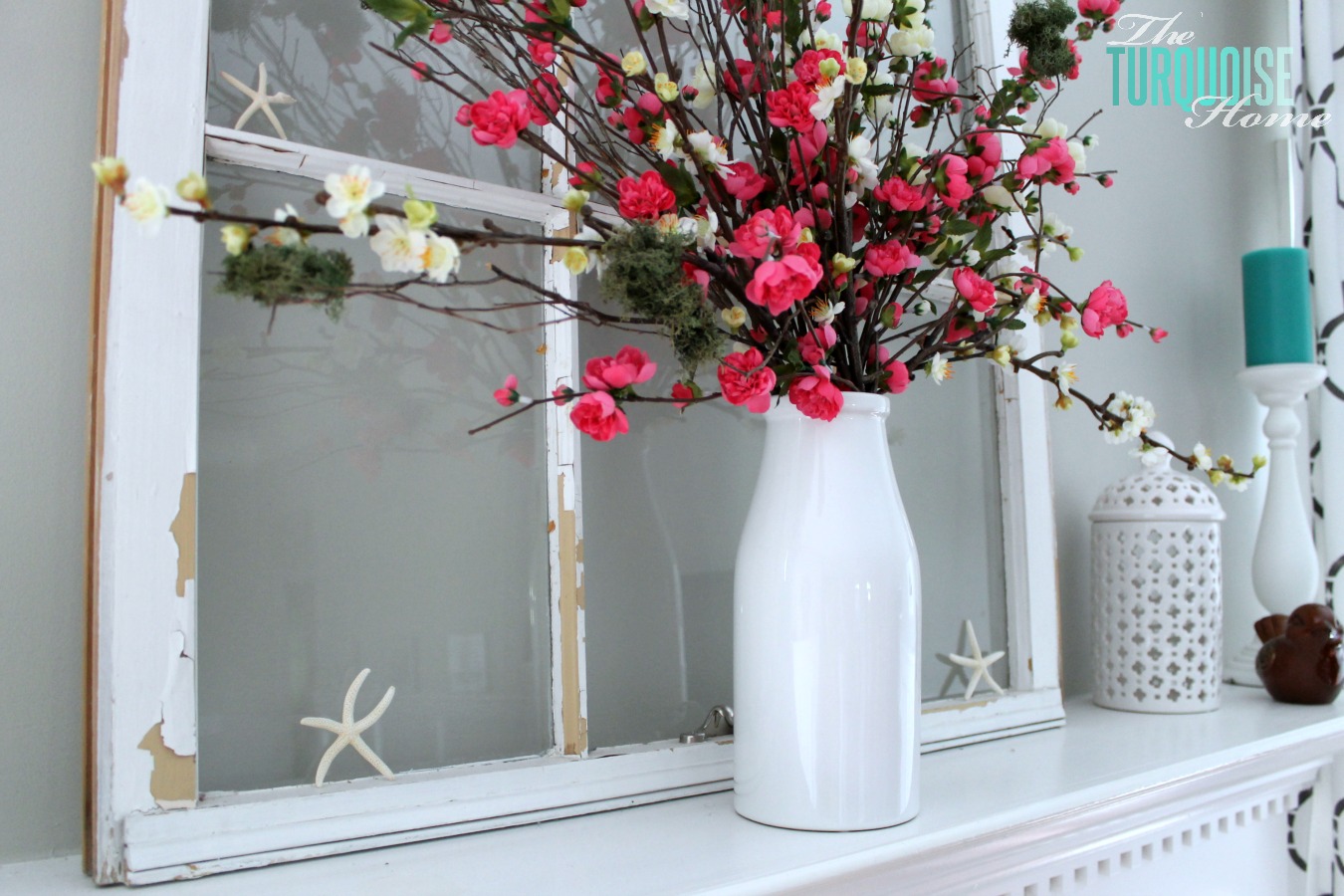 Brighten up your interior space with some colorful floral arrangements and summer decorations. You can never feel bored with these floral decorations. Spring and summer are all about lush greens, breezy outdoors and colorful flowers. Blossoming trees in living room or a colorful bunch of flowers in a glass or neutral colored vase makes a perfect summer décor. Create a floral arrangement with some bright shades of flowers and place it on the entryway console table, near a wall niche or on a side table in your living room. Same summer house ideas and theme can be applied to other parts of your house too. Make your breakfast area or dining room look stylish and summery with some floral runners, flower centerpiece and floral themed crockery. You can match the theme with some breezy drapes or neutral colored curtains.
22. Nautical summer decor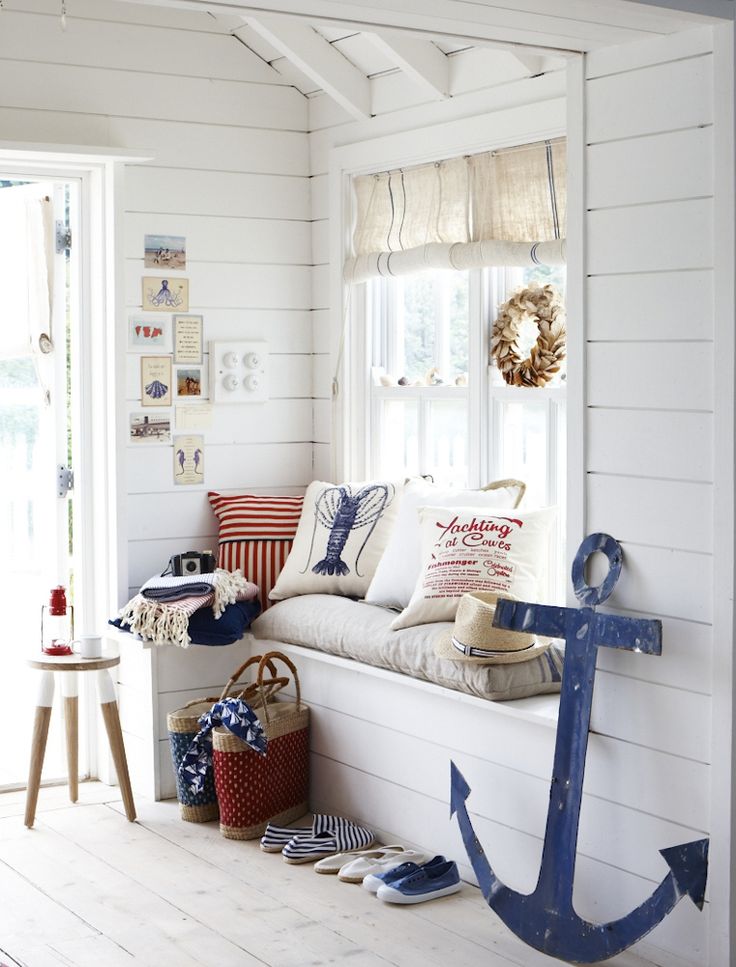 Decorate your home with a nautical charm to make it look like a coastal inspired setting. Whether you leave in a city far from a seashore or in a peaceful countryside, these beautiful themed summer decorations will bring back your memories of a relaxing beach vacation. Regardless of your home's overall style, home design and home décor, you can always add some nautical summer decorations to give your home a relaxing and refreshing touch. The simple hues of seaside colors add a laidback charm to your interior space. Nautical decorations look great with a warm and white backdrop. Choose a space of your choice and give it a complete summer makeover. Paint the walls with any shades of white or beige before you start with your nautical theme. Add some accessories like beach tote or hats to give the space a complete beach-inspired look. A nautical wall décor with some seashell centerpiece or wall hangings will match this theme beautifully.
23. Bright and bold summer decor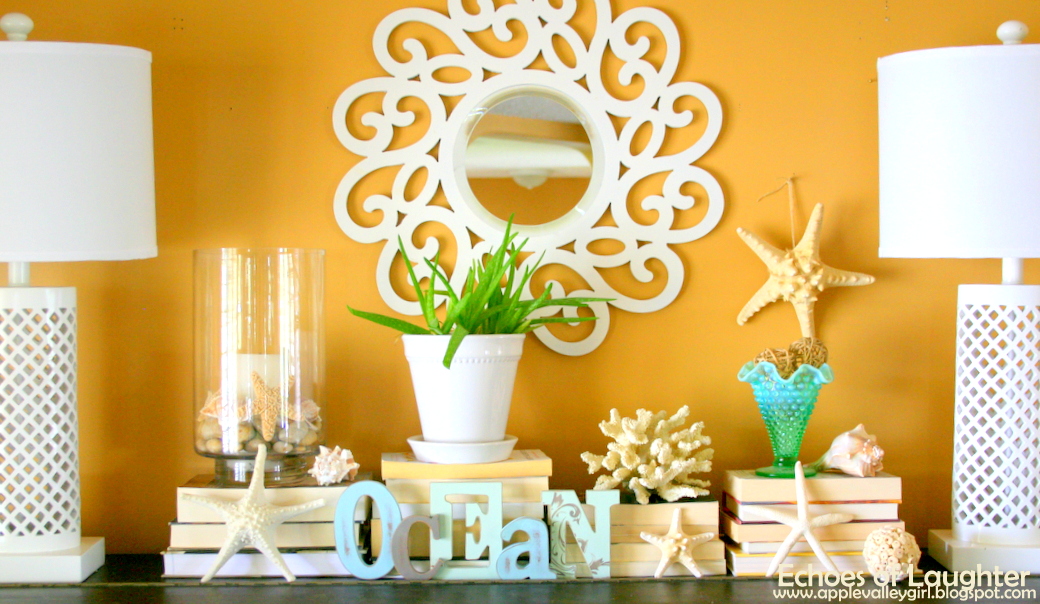 This idea is not for those who love warm and pastel shades in their home. Summer is all about flowers, colors and sunshine. Make your home look like a summer-inspired space with some bold and bright hues. A yellow backdrop with some nautical summer room decor, white furniture and lush plants will brighten up your home this summer. Choose a wall in your bedroom or in the hallway to create this theme. Select any color of your choice that goes well with the summer theme. A bright yellow or a bold pink and turquoise makes a perfect summer backdrop. Because you are choosing a bold backdrop, use white or neutral shades of décor and furniture to complete this theme. Add some mirrors, lamps with warm lamp shades and a few decorations. Don't overcrowd the area with a lot of summer decoration or matching flowers.
24. Summer design Pinwheel centerpiece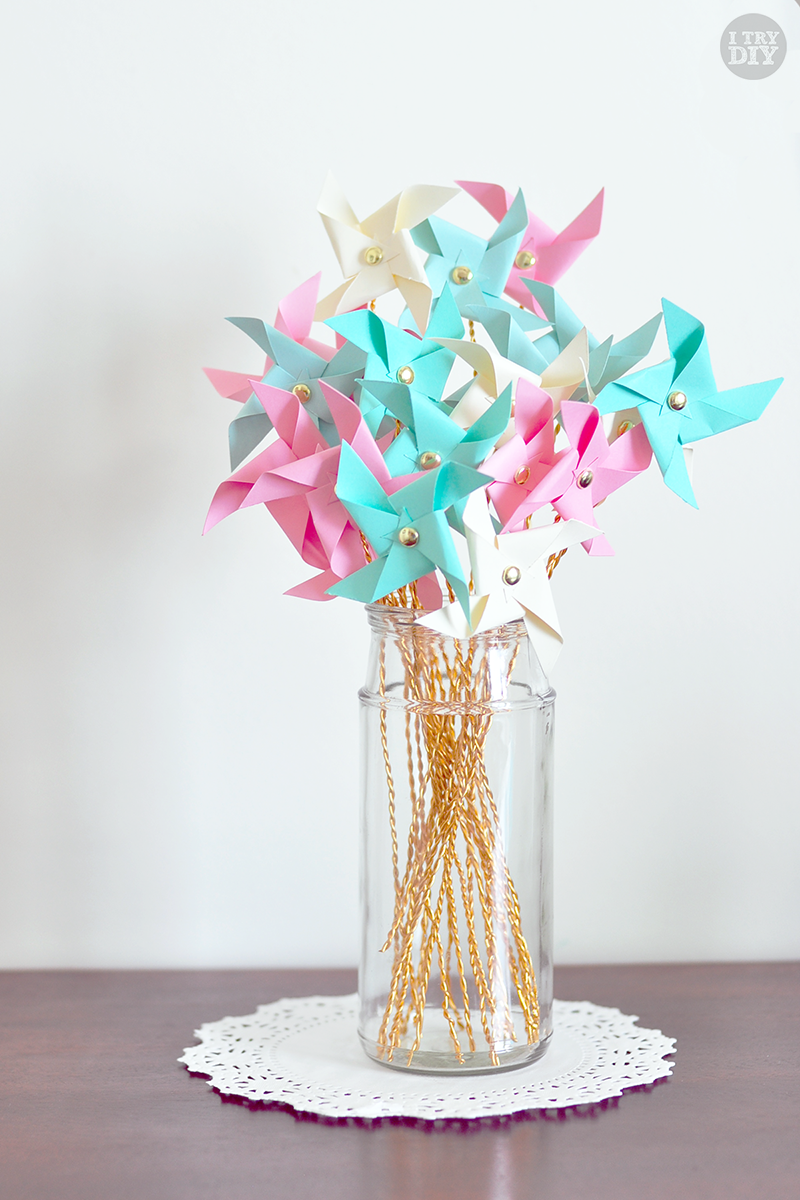 Pinwheel paper fans always relate to our childhood summer memories. Create an exceptional bouquet with some handmade pinwheels to add a pop of color to your living space. These paper pinwheels are easy to make. All you need is a variety of colorful cardstock, scissors and a few round fasteners. Use some wires to create the pinwheel stem and you are good to go. These beautiful pinwheels can be made in different lengths to fill the vase. This centerpiece makes a perfect summer decor. Choose some unusual summer shades or bold colors for your pinwheels. Place this vase anywhere you want and you will surely get some complements.